Bowl For Kids' Sake 2020 has been POSTPONED in light of the COVID-19 pandemic. The future date remains TBD until it is safe to move forward with the event. We encourage the community to continue to register teams and collect pledges in support of Big Brothers Big Sisters Wood Buffalo. Bowl For Kids Sake remains a crucial fundraiser to our operations as a non-profit organization.

Join us at The Alley on Sunday April 5th, 2020 to partake in our 1st Annual Bowl for Kids Sake event since 2011! Bowl for Kids Sake is a fundraising event for people throughout the community to get together with friends, family, and co-workers and have a fun time bowling in support of Big Brothers Big Sisters of Wood Buffalo.
Bowl for Kids will feature three time slots to choose from. The first time slot will be from 1:00pm to 3:00pm, the second from 3:30pm to 5:30pm and the third from 6:00pm-8:00pm. All time slots are family friendly. The event will have a Heroes and Villains Theme.
Teams can consist of 4-6 players and we kindly ask all teams to collect a minimum of $400 in pledges (approximately $100 per player). Proceeds raised from this event will support the free mentoring programs we offer to the children and youth in our community. All ages are welcome and no experience is necessary!!
To submit a team you can either:
Submit your team and collect pledges offline by printing the Team Roster and the Pledge Sheet . Please return these forms via email to eventswb@bigbrothersbigsisters.ca OR;
Submit your team and collect pledges online by following this link: https://www.canadahelps.org/en/charities/big-brothers-big-sisters-association-of-wood-buffalo/p2p/bfks2020
Once your team has been submitted you will be contacted by email to confirm your time slot.
To become an event sponsor please view our Sponsorship Package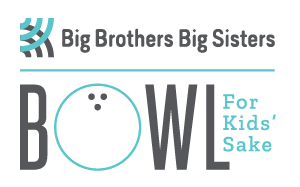 Have questions regarding Bowl for Kids Sake? Please contact Darcy at 780-791-2447 or via email at eventswb@bigbrothersbigsisters.ca