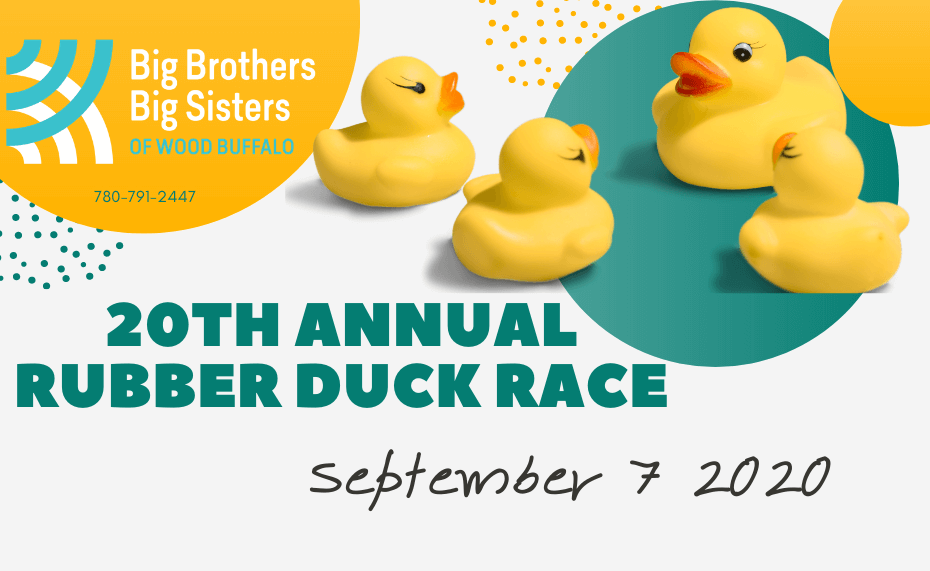 This is Big Brothers Big Sisters of Wood Buffalo's 20th Annual Rubber Duck Race. The event will be held on September 7th, 2020 from 2PM-4PM at the Snye Point Park. The event doors will open at 2PM with our three races being held consecutively at our man-made river at 3PM. Ducks will be released down the river with winners announced at the finish line. You do not need to attend the event to win! We will release your duck(s) for you!
Events like our Annual Rubber Duck Race are essential in raising funding and awareness to the free services that we provide to the Wood Buffalo community. In compliance with Alberta Health guidelines, Big Brothers Big Sisters will be moving forward with the Annual Rubber Duck Race LIVE at the Snye. Social distancing will be enforced with a maximum of 100 guests allowed entry into the event space. Masks and hand sanitizer will be provided. For those unable to attend in person, there will be a virtual viewing option through Facebook live.
Big Brothers Big Sisters of Wood Buffalo has been in Fort McMurray for the past 40 years, providing children with strong and enduring, professionally supported mentoring relationships that change their lives for the better, forever!
Help us by supporting our mission to make a difference in the lives of children and youth with the purchase of a rubber duck!
Corporate Rubber Duck Race (1st Race): Corporate Businesses are able to show support to local youth with a $250 sponsorship! The business will receive a Rubber Duck for the race as well as marketing!
Union Rubber Duck Race (2nd Race): Through a $250 sponsorship your Union will receive a Rubber Duck for the race as well as marketing and the opportunity to win bragging rights amongst the other unions!
Community Rubber Duck Race (3rd Race): All community members 18 years or older are invited to show their support for local youth mentorship programming through the purchase of a $10.00 rubber duck(s)! With this year being our 20th Annual Race, we will be releasing more ducks than ever! 2000 Ducks will be available for purchase, get yours online today before they are sold out for your chance at winning one of four prize opportunities including a round-trip for two anywhere WestJet flies, a gift package provided by Best Western Plus valued at $850, a $250 Visa Gift Card, and a themed Gift Basket valued at $200!